Indian Geography Quizzes
Quiz 1  |  Quiz 2  |  Quiz 3  |  Quiz 4  |  Quiz 5  |
Chapter 1: GEOLOGICAL HISTORY OF INDIA
Introduction
200 million years ago India was a part of Gondwana. Indian peninsular block is a fusion of three blocks Aravali, Singbhum and Dharwad.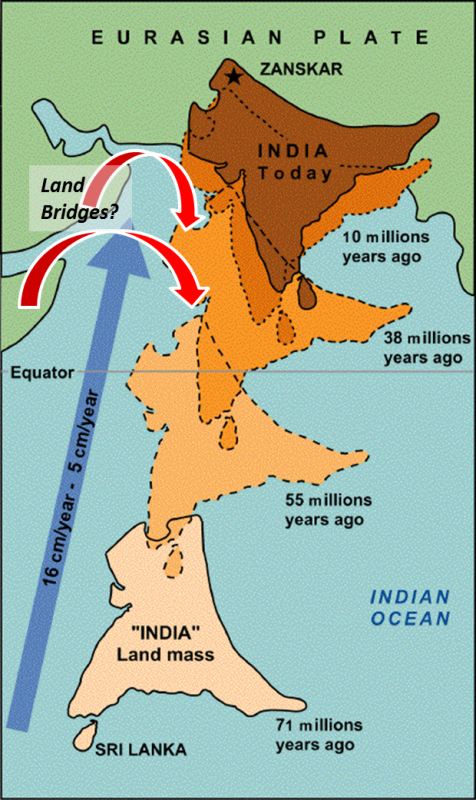 Fig 1: Gondwanaland and India
The Aravallis, Satpudas, eastern ghats, Vindhyas and Bijjawals are remnants of it.
Rift valleys which are formed are Godavari, Mahanadi, Damodar towards the Bay of Bengal.
The Narmada and son rift valleys are towards the Arabian sea.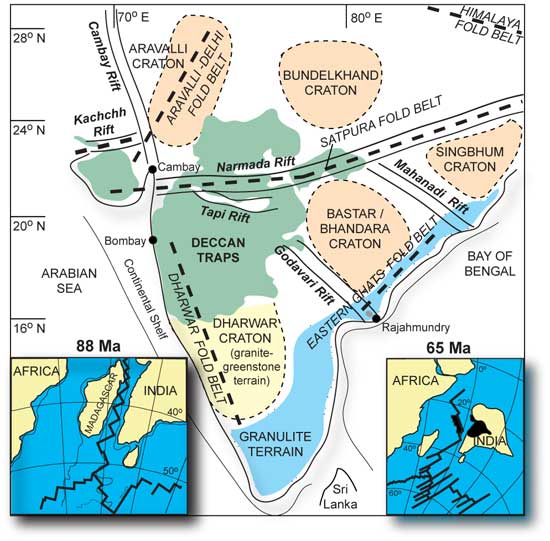 Fig 2: Rift valleys and Peninsular block
The Indian plate separated from Gondwana and then Madagascar. It moved over reunion island and due to hotspot volcanism developed the Deccan lava plateau. The collision between Indian plate and Eurasian plate led to formation of Himalayas.
Chapter 2: PHYSICAL GEOGRAPHY OF INDIA
Introduction:
Indias latitudinal and longitudinal extent is 30°. North-South distance is 3214 km and east west distance is 2933 km. North lies in subtropical and warm temperate region and south lies in tropics.
It is the 7th largest country with 3.28 million sq km and 2.4% of worlds land surface and 17% of the population. It has 6100 km of coast in mainland and 7517 km along with the islands.
Gujarat has the longest coastline and Bangladesh shares the largest border with India. In all there are 7 countries not counting Tibet that India shares a border with.
Indira point in Nicobar Islands is the southernmost tip of India.
Physical Geography
The physical geography of India has four parts:
Northern mountains.

Northern plains.

Peninsular plateau

Coastal plains.
Northern mountain:
The northern mountain complex contains Himalayas, Trans Himalayas and Purvachal. Himalayasare in north, Hindukush and Sulaiman are in north west and Purvachal in east.
The Himalayas are true mountains. They are formed from the continent – continent plate collision. They have sediments of marine origin. It is not a single range but a series of ranges.
The Himalayas have three ranges namely great Himalayas [Himadri] , middle or lesser Himalayas [Himachal] and outer Himalayas [Shiwaliks].
 Fig 1: Himalayan range
Types of Himalayas
Greater Himalayas:
Highest and most continuous mountain range in the world.

Crystalline rocks.
Middle Himalayas:
Less in height and discontinuous.
Outer Himalayas:
Upliftment of the foothills of the Himalayas.

They are created due to the alluvial deposit of the Himalayan rivers.
Structure of Himalayas:
The middle bend is convex shape.

Second sharp bend is towards southern end.

Western bend towards Nanga Parbat and eastern towards Namcha Barwa.

Northern side rests against Tibetan plateau and southern side is covered with snow. Gentle slope on northern side and steep slope on southern side.

The mountains don't act as a water divide but allow rivers to cut across. The rate of erosion by rivers is greater than the rate of upliftment of Himalayas.
| | |
| --- | --- |
| Western Himalayas | Eastern Himalayas |
| Lower and gradual slope. | Higher and steep sudden slope. |
| Located on higher latitudes and so colder | Located on lower latitudes and so warmer |
| Don't act as barrier to south west monsoon | Act as barrier to south west monsoon |
| Shiwaliks are farther | Shiwaliks are closer |
                                          TABLE 1: EASTERN AND WESTERN HIMALAYAS
Region – wise division of Himalayas
The Himalayas are divided into five regions:
Kashmir Himalayas
Karakoram, Ladakh, Zanskar, Pir Panjal and Dhauladhar are the ranges from north to south in that order.

Karewa formation – clay, sands from old fertile lands.

Lake Wular – largest freshwater lake of India located in Kashmir.
Kumaon Himalayas
Garhwal and Kumaon hills from west to east.

Source of Ganga and Yamuna. Located in Uttarakhand.
      3.      Nepal Himalayas
                      a.       Tallest section of the Himalayas.
Sikkim Himalayas
Assam Himalayas
Himalaya range isn't stable like western ghats
Debris, avalanches, landslides occur frequently in the Himalayas as they are techtnically active, made up of sedimentary, unconsolidated or semi consolidated rocks.
They have steep slopes.
Nilgiris slightly techtonically stable and have have hard rocks so land slides are less frequent. However direct rockfall is seen due to steep slopes, heavy rains and mechanical weathering due to temperature and escarpments.
Dun:
When rivers are obstructed by mountains they spread out to form lakes. The lakes dry up when the rivers find paths through the mountains. These dried up lakes are called "duns". They are found between great and middle Himalayas .
Importance of Himalayas: 
Prevents cold Siberian winds from entering into India.

Himalayas are responsible for rainfall in north east. Also without them there would be no Tibet plateau and India would have been a desert.

They split the sub tropical jet streams into two bringing winter rain to India.

Source of perennial rivers.

Great forest and mineral wealth.
Purvanchal:
The mountains have same orogeny as the main Himalayas . From north to south the mountains are patkai, naga and mizo hills. The elevation decreases from north to south.
Patkai hills – border between Arunachal Pradesh and Myanmar.
Manipuri hills – border between Manipuri and Myanmar. Manipur has loktak lake and Mizoram has molassis basin which are soft unconsolidated deposits.
Andaman and Nicobar islands are extension of eastern Himalayas.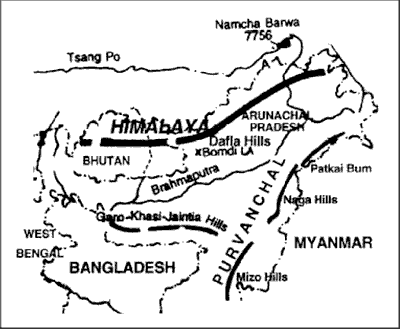 Fig 2: Purvachal

Northern plains:
Youngest physiographic feature in India. Depositional flood plain created by Himalayan rivers like Indus, Ganga, Brahmaputra and Yamuna.
Densely populated with 30% of worlds population on 10% of worlds agricultural land.
Part of the northern plains:
Babhar – alluvial fans of rivers with course boulders and not suitable for cultivation.

Khadar – new flood plains with very fertile soil

Bangar – old flood plains with calcerous kanker formation; less fertile

Terai – bad drainage with swampy land.
North plains is divided into four parts:

Rajasthan plains
Formed west of Indus.

Drained by Luni which is located west of Aravalli

Thar desert is a tropical desert formed due to off shore trade winds and Aravalli range is parallel to south west monsoon so no orographic rains.
Punjab plains

Drained by Ravi, Sutlej, Beas

Khadar plains are present but bad topography causes bad drainage.
Gangetic plains
Assam plains

Drained by Brahmaputra – the largest river of India by volume.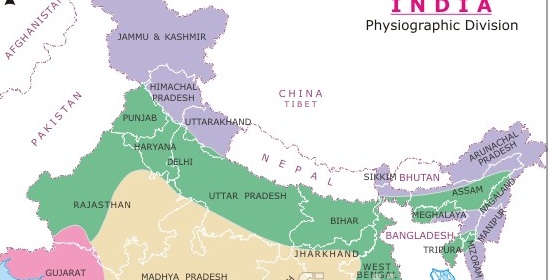 Fig 3: Northern plain
Peninsular plateau:
It is covered by western ghats and eastern ghats and in the north by the central highlands. The Deccan traps were formed when Indian plate flowed over reunion island. The basaltic flow created layer over layer and it looks like steps. It is higher than northern plains.
Aravalli range: one of the oldest mountain range. It has sedimentary, metamorphosized rocks. Sabarmati from eastern side of Aravali merges into Arabian sea.
Vindhyan range: source of many north flowing rivers that meet Yamuna. It represents the water divide of central India. Mahi from north side of Vindhya also is a west flowing river.
Malawa plateau – between Aravalli and Vindhya range.
Satpuda range – has the Amarkantak plateau which is source of Narmada and son.
Meghalaya plateau – Garo, Khasi, Jaintia hills and Barail range in line. The hills aren't very high so ineffective in blocking rain winds. These are blocked at Arunachal Pradesh.
Fig 4: Peninsular plateau

Narmada and tapti are old rift valleys. Worlds largest freshwater lakes are rift valleys.

Western Ghats: UNESCO World Heritage Site

They are extending from Maharashtra to Kerela. In Maharashtra they are steeper and higher. In Karnataka they are broader. In Kerela they are isolated hills with gaps that allow rain winds to pass through them.
Height of the Western ghats decreases from north to south.
The air parcel that passes over the hills retain energy but as they take longer the droplets precipitate into rain.
Anaimudi is the highest peak in the Deccan.
Eastern Ghats 

Discontinuous range but with lower heights in the mountains. Laterite soil is present. Coromandel coast lies between eastern Ghats and bay of Bengal.
Bay of Bengal has 572 islands out of which 2 main islets are richies and labyrinth island.
Andaman and Nicobar are separated by the 10° channel and Lakshadweep by 11° channel. Barren island in Nicobar is india's only active volcano.

Southern hill complex: 

They are not a part of the western or eastern ghats. From north to south the hills are:
Nilgiri, Palani, Anamalai and Cardamom. Palghat pass between Nilgiri and Anamalai hills.

Nallamala, Javadi too are hill ranges in the south but above the above hills.

The western and the eastern ghats meet at Nilgiri hills.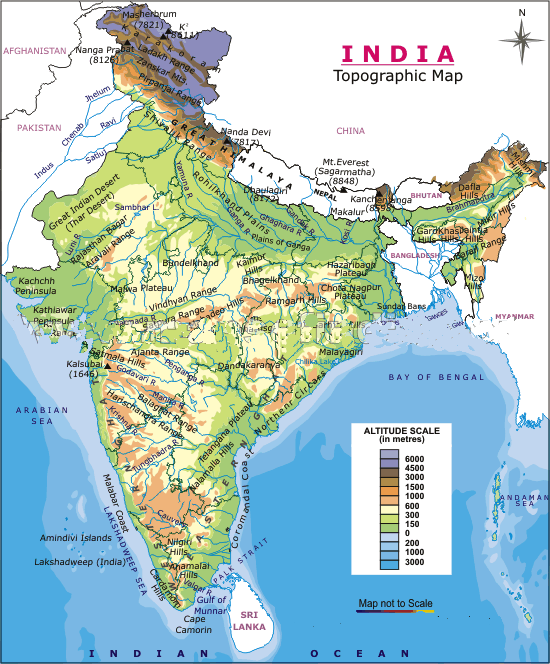 Fig 5: Southern hill complex

Importance of Deccan plateau:
Oldest and most stable region.

Rich in mineral wealth.

98% of Gondwana coal

Peninsular soil is black cotton soil or regur soil. Plantation of tea, coffee, rubber, cashews and sugarcane.
Coastal Plain:
It extends from Rann of Kutch to Sunderbans. It has two parts western coastal plain and eastern coastal plain.
Western coastal plain:
Narrower and steeper with fast flowing rivers but no deposits.

Rivers form estuaries not deltas.

Good for port development

Has two gulfs: kutchh and khambat.

Coast are two: Konkan and Malabar.
Eastern coastal plain:

Broader and with large rivers that form delta.

Chilika lake – biggest salt water lake in India.
Chapter 3: RIVERS OF INDIA
Introduction
Indian rivers are of two categories: northern rivers and peninsular rivers.
Northern rivers:
Indus:
It has 5 tributaries Chenab, Ravi, Beas, Satluj and Jhelum. Chenab is the largest.
Satluj is the only one that doesn't originate in India.
Ravi, Beas, Satluj,  Chenab and Yamuna flow through Himachal Pradesh.

Jhelum: 
Srinagar is on banks of Jhelum

Rises at Verinag
Chenab:
Two headward tributaries: Chandra and Bhaga
Ravi:
Source near Rohtang pass in Himachal Pradesh
Beas:
Source near Rohtang pass in Himachal Pradesh

Entirely within India.
Satluj:
Originates near Mansarovar.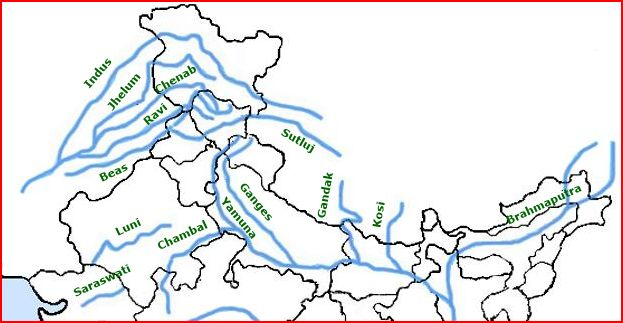 Fig 1: Indus river system
Ganga:
    Originates as Bhagirathi from Gangotri.
     Left bank tributaries: Kosi, Ramganga, Gandhak, Gomati, Gaghar.
     Right bank tributaries: Yamuna, Son, Hugli

Brahmaputra:
Originates in Kailash and enters into India as Dibang. Through the Malda gap between Rajmahal and Garo hills passes into Bay of Bengal. Enters Bangladesh and is known as Jamuna. Meets Ganga and is now called Padma. Then meets Meghna river and is called Meghna. Forms a large delta.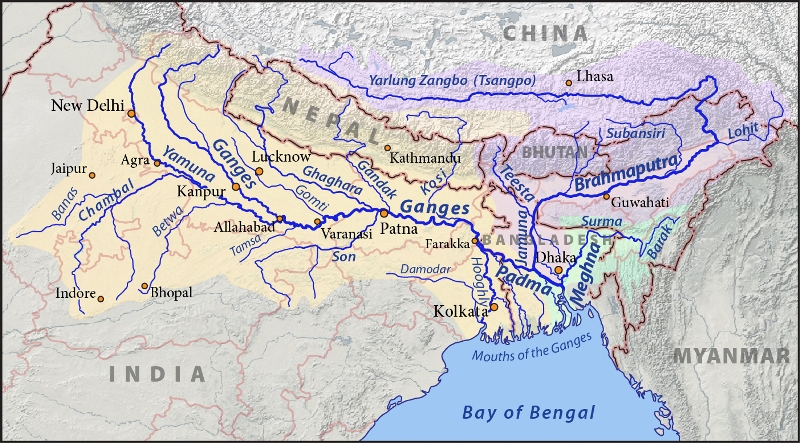 Fig 2: Ganga and Brahmaputra
Peninsular rivers: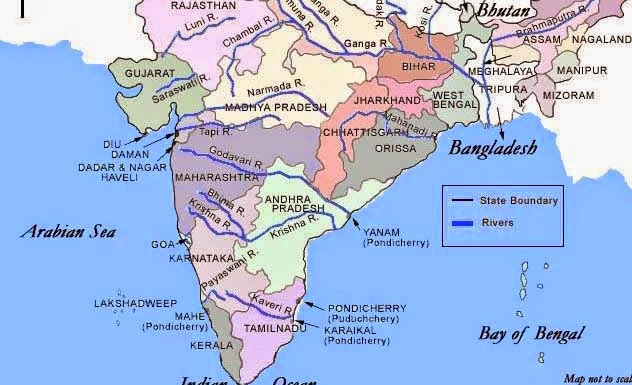 Fig 3: Peninsular rivers
East flowing rivers: kaveri, godawari, krishna, meghna, tungabhadra, mahanadi, damodar, subarnarekha.
Damodar – source in chota nagpur plateau.
Godawari – dakshin ganga
Krishna – source near mahabaleshwar.
Mahanadi – hirakud dam
Rushkiya river – mouth of river is hatching site for olive ridley turtles.
Olive ridley turtles- the most abundant sea turtles in the world. Live in warm waters of pacific, atlantic and indian ocean. Odissa coast is the largest mass hatching site for olive ridley turtles.
West flowing river: Narmada and Tapti. These rivers form no delta as they dont carry any alluvial sediments.
Chapter 4: INDIAN SEASONS
Introduction
There are three seasons in India: summer, winter and monsoon.
Monsoon is a unique weather phenomenon due to seasonal reversal of winds.
Features of Indian Monsoon 
Monsoon has following features:
Sudden onset

Gradual advance

Gradual retreat

Variation – temporal and regional
Indian Monsoon   

Stage 1:

The apparent movement of the sun in northern hemisphere in summer is seen. This heats the Tibetan plateau and the air rises upwards. This creates a Tropical Eastern Jetstream which descends at Madagascar and creates a high pressure zone there. An inter tropical convergence zone [ITCZ] formed at equator moves to Tibetan plateau.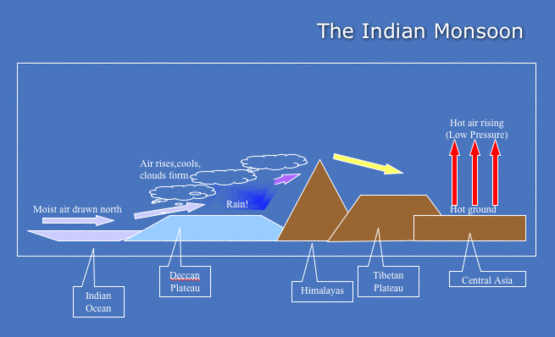 Fig 1: Indian monsoon
Stage 2:

The Somali jet stream intensifies the Somalian ocean current during summer. Stronger the Somalian current better the monsoon.
Stage 3:

Sub tropical westerly jet maintains high pressure over North India. The STWJ is bifurcated by the Himalayas into two branches.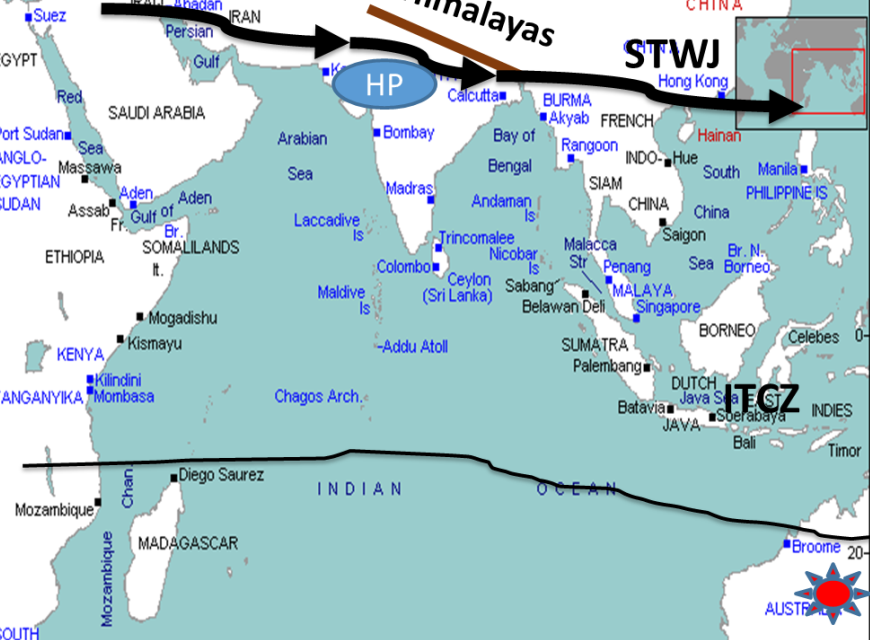 Fig 2: STWJ and Himalayas
The summer see apparent movement of the sun and heating of the Tibetan plateau. This creates a low pressure belt over Tibet.
The STWJ still continues to be over South Himalayas and it resists the monsoon winds.
In this time there is local convectional rainfall in Bengal, Bihar called Kalbaisakhi , mango showers. These are pre monsoon thunder showers.
Then the STWJ southern branch moves over north and STWJ withdraws from the Indian subcontinent. If this branch reestablishes then monsoon break is seen.
Stage 4: Indian Ocean Dipole

Low pressure conditions over Australia and Tibetan plateau and high pressure over Madagascar create an Indian ocean dipole. A strong dipole pushes monsoon winds towards Indian subcontinent.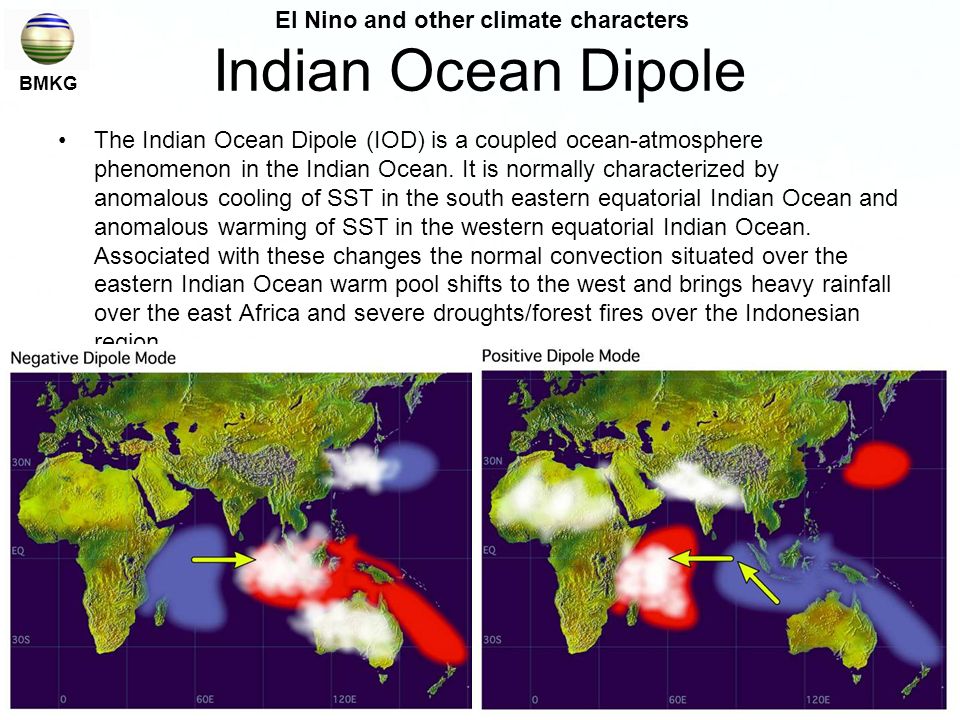 Fig 3: Indian Ocean Dipole
Stage 5: onset of monsoon

The monsoon winds have two branches Arabian and Bay of Bengal. The Arabian branch moves over western ghats and is blocked. This brings heavy rainfall over western region.
The SW Arabian branch isn't blocked by Aravallis so less monsoon over Rajasthan. The gap between Vindhyas and Aravallis mean SW winds reach over to Himachal Pradesh.
The Eastern branch of the SW monsoon goes over Bay of Bengal and isn't blocked by the eastern ghats. It passes through their gaps and reaches Vindhya , Satpuda range and Chota Nagpur plateau. This gives rainfall to the Eastern India and interiors.
The second part of the eastern branch of sw monsoon passes over north east and brings rain there.
Stage 6: retreat monsoon

The month of September the ITCZ retreats towards the equator from Tibetan plateau. As it passes over the India the eastern branch of South west monsoon and north east winds collide.
The eastern branch of South west monsoon withdraws first. Then North East winds are off land and hence dry but they pick moisture over Bay of Bengal and bring rain to southern tip of India i.e. Coast of Andhra Pradesh, Tamil Nadu.
The retreating eastern branch of South west monsoon brings cyclones to the land.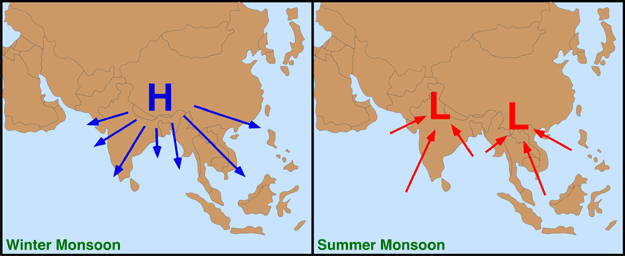 Fig 4: Indian Monsoon
Fluctuations in Indian monsoon:

If the Indian ocean dipole is weak.

Southern oscillation is reversed or not strong.

SWTJ doesn't retreat from India or comes back once again.

Inadequate heating of Tibetan plateau.
Chapter 5: VEGETATION OF INDIA
Introduction
The three types of forests seen in India are:

Tropical forest

Montane forests

Alpine forests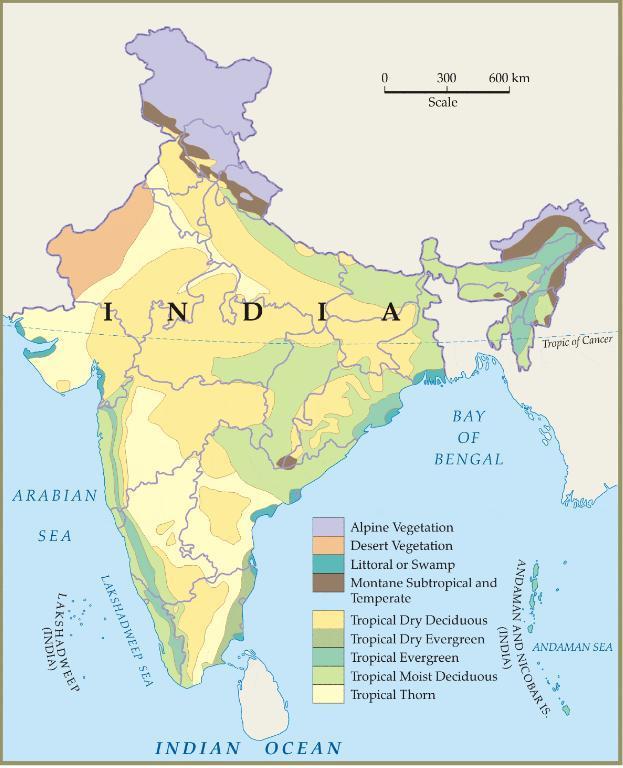 Fig 1: Forest types of India
Tropical forests:
The types are:
Moist

Wet evergreen – areas with more than 250 cm rainfall viz. Western ghats, A&N, NE states. Dense forests and dense undergrowth.

Semi evergreen – border areas of wet evergreen forests.

Moist deciduous – rainfall 100-200cm. Located on western and eastern ghats.
Dry

Dry evergreen – winter rainfall and monsoon rainfall. Rainfall -100 cm. TN coast.

Dry deciduous – transition between moist deciduous and tropical thorn. Sheds leaves in dry season. 100-75 cm rainfall.

Tropical thorn – North West part of India. >75cm rainfall.
Montane forest:
Types:
Sub tropical forests – 1000 -2000 m altitude

Broad leaves: evergreen and dense. 75-125 cm rainfall.

Moist pine: 100cm rainfall. Chir tree is example

Dry evergreen: stunted trees and shrubs. Found in western himalayas.
Temperate forests – 1800 – 3000 m altitude.

Wet temperate: evergreen and short trees. Western ghats and eastern himalayas. 150 – 300 cm rainfall. E.g. Deodhar.

Moist temperate: 150 – 250 cm rainfall. Found in entire length of himalayas. E.g. Deodhar.

Dry temperate: rainfall >100 cm. Present in dry part of himalayas. Coniferous forests e.g. Ash, maple, oak.
Alpine forest:
It has an altitude of 2900 – 3800 m. It is a mixture of coniferous trees, large shrubs and broad leaved trees. E.g.  Fir, spruce, birch.
                     TABLE 1: FOREST COMPOSITION OF INDIA   
| | |
| --- | --- |
| Forest type | Area |
| Tropical moist deciduous | 37% |
| Tropical dry deciduous | 28% |
| Tropical wet evergreen | 8% |
| Montane subtropical pine | 6.6% |
| Tropical semi evergreen | 4% |
Chapter 6: WATER RESOURCES
Introduction
Rain, rivers, lakes, ponds are important source of water in India.
India receives 2nd highest rainfall for a country of its size. 1st is Brazil.
Water availability is 2000 cum/person/year and by 2050 it will be 3500 cum/person/year but availability shall be 1200 cum/person/year.
Rivers are also important water source. The Himalayan and peninsular rivers are the two types of rivers.
| | |
| --- | --- |
| Himalayan River | Peninsular river |
| Perennial | Seasonal |
| Antecedent | Superimposed |
| Flood prone | Not flood prone |
| Large, huge flood plain, low slope and forms meander. | No shifting of course – due to hard rock surface, no shifting of course, small catchment area. |
| Easily navigable | Waterfalls at any course |
| Can be diverted for irrigation | Can't be diverted for irrigation without pumps as river basin located on higher plateau |
| Waterfalls at youthful stage only | Waterfalls at any stage |
 TABLE 1: HIMALAYAN AND PENINSULAR RIVER
Groundwater resources: 
Aquifer is the storage pool for groundwater. It stores rainwater that percolates through the soil or cracks. When all pores are filled it's called saturation zone. Upper layer of the saturation zone is called water table.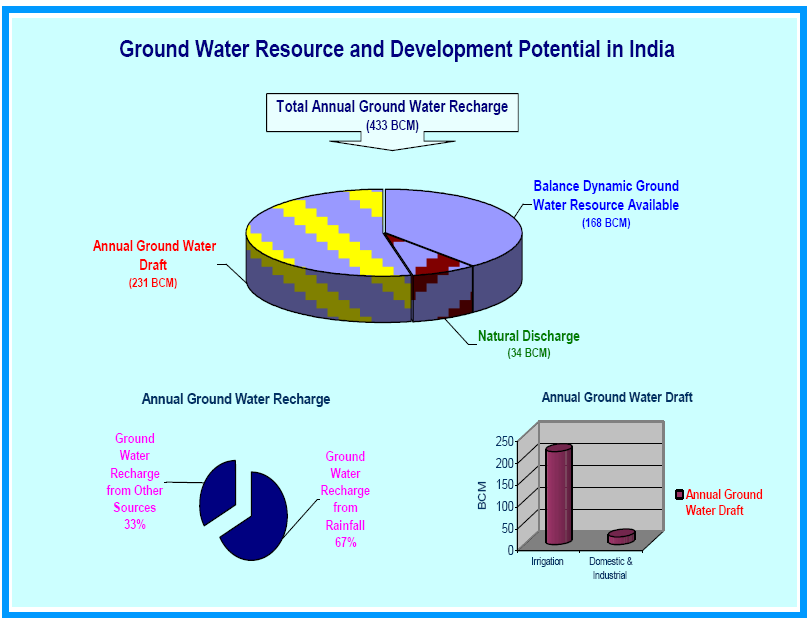 Fig 1: Groundwater resources
Groundwater capacity of India is 30-40 million hectares. It is found in selected locations only:
Northern alluvial plains. Peninsular river basins and deltas of rivers.

Bhabhar [foothills of the Himalayas]

Eastern and western coastal plains

Peninsular granite and gneissic rocks.
Ganga rivers groundwater reserve is highest at 17 million hectares. Indus river has a ground water usage rate of 80%.
India's groundwater use is more than the replenishment rate and so aquifers are drying up. 60% of India's irrigation through tube wells and dug wells. This hurts the water resources. Also unplanned urbanization, increasing population, overuse affect it.
Flouride, arsenic, nitrate fertilizers are affecting underground water resources.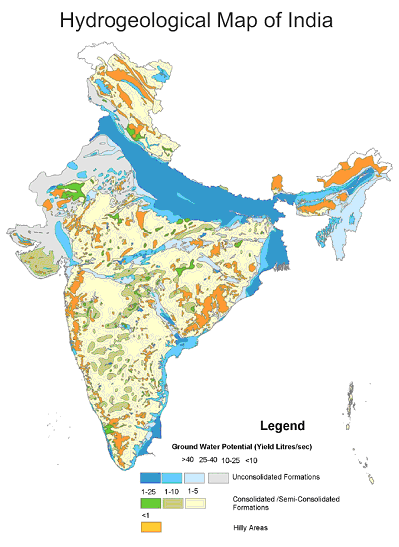 Fig 2: Hydrological map of India
Watershed:
Geo hydrological unit that drains at a common point. E.g: A main river and its catchment area.
Fig 3: Watershed
In watershed management we construct small check dams to stop flow of water so it can percolate. No large dams and no stopping of the river flow.
Afforestation on river banks, soil conservation are other methods.
Drought-prone area Program + Desert development program + integrated wasteland development program  = Integrated watershed Management Program under the department of land resources, ministry of rural development.
Watershed management can work successfully under community participation, decentralization and strong Panchayati Raj system.
Chapter 7: SOILS OF INDIA
Introduction
Soils with different layers have different physical and chemical properties. Topmost layer is humus or organic matter, topsoil followed by transition zone, sub soil, weathered rock material and parent rock. In soil erosion topsoil is lost. Subsoil can't support plant life.
Soil nutrients:
Air – carbon, oxygen

Water – hydrogen, oxygen

Soil:

    Macronutrients: nitrogen, phosphorous, potassium, calcium, magnesium, sulphur
Micronutrients: Boron, chlorine, iron, magnesium, iron, copper.
Ideal ratio of N, P and K should be 4:2:1 but India its 8:4:1. Urea is out of Nutrient based subsidy and so is misused. Due to the high misuse of urea there is nitrate pollution in ground and water.
Soil health card are issued by the government for providing information on the nutrient status of the soil and recommendation on appropriate dosage of nutrients.
Implications:
Soil and water pollution.

Eutrophication of lakes.

Nitrate poisoning in ground water leads to stomach cancer

Without humus, chemicals harden the soil and make it infertile.
Organic farming:
Paramparagat krishi vikas yojana to promote organic farming, discourage use of chemicals as inputs and promote bio-fertilizers, vermin compost, sustainable practices like crop rotation, water efficiency.

Green manure are sowing of crop seeds, sun hemp and guar then mulching and ploughing them into soil to enrich N, P in the soil.
Vermi compost:
Mixture of earthworms and organic waste. The earthworms break down the matter to give nutrient rich, water soluble, moist organic fertilizers. It increases soil aeration, water retention, root growth, microbial matter and also its affordable.
Soil forming factors are:
Rock

Climate

Relief

Biota

Time
Rocks:
Soil made up from erosion of soft rocks. It provides soil material, texture, porosity and pH value. Soft rocks means better soil formed than hard rocks.
Climate:
Wind, water, glaciers are agents of erosion. Climate determines the type of erosion and its intensity.
Relief:
Steep gradient gives underdeveloped soil and plain area gives well developed soil.
Biota:
Microbes enrich the soil. Roots from plants help in weathering of rocks and humus content from plants enriches the soil.
Time:
Soil formation is a long term process. Time decides maturity of the soil.
Transportation in soil:
Capillary:

    a) Upward movement of minerals.

    b) Hot and dry climate causes this.

    c) Salts within the soil come to the surface. This results in soil salinity.
Leaching:

    a) Downward movement of minerals.

    b) Seen during humid climate.

   c) Silica moves downwards but iron and aluminum remain on top. Thus we get laterite soils which are acidic and reddish.
Gleying:

    a) In swamps peaty soil is formed.

    b) Excessive potassium is seen.
Soil Conservation:
Structural solutions for soil conservation:
Construction of retaining walls. Strengthen slopes of river banks using stone pitching or wire netting.

On rivers contruction of multi purpose dams. Construction of tri-pods, tetra-pods and groins to prevent erosion.
Non structural solutions:
Afforestation.

Discourage cultivation on marginal lands.

Agro forestry.

Along slopes: Contour bunding, terrace farming, basin listing, soil mulching, crop rotation, relay farming, strip farming, organic farming, use of bio fertilizers.

To control wind erosion transverse farming and shelter belts.
                                                                                                                                                                    Fig : Shelter belt
Soil Salinity:

Causes:

 Arid regions are created due to salts on upper layers of the soil.

Bad drainage due to basin topography and black cotton soil

Faulty agriculture practices like over irrigation, cultivation of water intensive crops.

Sea water intrusion into ground water reserves.
Implications:

 Salts of sodium, potassium, manganese come to the top soil.

Soil fertility is reduced.

Choice of crops is reduced to only salt resistant varieties like cotton, barley

Quality of fodder reduced.

Reduced infiltration of water into ground.
Solutions:

Soil is flushed with water and salts are dissolved and removed but this methods cant be used in india.

Laying drainage pipes underground to pump out excessive water.

Lining of canals to avoid seepage.

Use of agents like gypsum and sodium pyrite to recover soil.

Discourage use of ground water and encourage rain water harvesting, agro climatic farming.
Desertification:

Extreme form of land degradation in semi arid or sub humid areas. Expansion of desert areas.

It cant be reversed only prevented.
    Solutions:

Constructing retaining walls.

Growing grass on sand dunes.

Cultivation of trees on margins

Transverse farming
Types of Soils: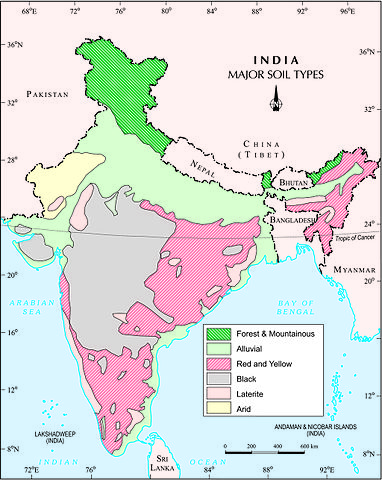 Fig 1: Soil profile of India
Alluvial Soil
Covers 42% of India.                   

Deposited by rivers. Well drained. Most fertile.

Lack of phosphorous.

Covers northern plains. Fertility and productivity decreased but productivity increased.
Red Soil
Covers 25% of country.

Formed due to erosion of granite and gneissic rocks. Best drained soil, least susceptible to water logging. Most vulnerable to soil erosion.

Lacks nitrogen, phosphorous. Supports max crop diversity.
Black soil
Covers 15% of India.

Formed from erosion of volcanic rock. Lacks nitrogen and phosphorous.

High water retention. Cracks when dry so self ploughing and sticky when wet.
Laterite soil
Alternate wet dry season. Used for making bricks.

Leaching of silica – iron remains on topsoil.

Acidic soil. Not suitable for agriculture but with fertilizers cashews, tapioca, tea,coffee and rubber grown.
Mountainous soil
Immatured soil. Cant support agriculture due to steep slope but can grow grass and shrubs.

Good for lumbering.

Leaves of coniferous trees hard to degrade. Cold climate slows bacterial growth.
Desert soils
Sandy, loose and friable with low water retention capacity. It cant support agriculture.

But Indian desert soil is suitable for agriculture under irrigation as its made of aluminum deposits.
Mangrove soils
Bluish green color due to sulphide.

Cant support plants but only mangroves. Present in coastal areas of all states.
Soil alkalinity:
    1.  Calcium salts in upper layer causes moderate salinity. But in next stage sodium, potassium salts in upper layer.
This is due to bad drainage and over irrigation.
Land use in India:

India home to 17% of the population but 2.4% of land of the world.
                                                           TABLE 1: LAND USE IN INDIA
| | |
| --- | --- |
| Land use | Percentage |
| Net sown area | 46 |
| Forests | 23 |
| Land not available for agriculture [cities, development infra] | 15 |
| Fallow land | 12.5 |
| Pastures | 3.5 |
Miscellaneous
Desired land use wants to increase forest cover to 33%. Development land should be increase and fallow land reduced.

India also has highest percentage of dairy animals but isn't a leading exporters of dairy products.

India's Net Sown Area [NSA] is 10% of worlds agricultural area but low productivity is seen.

India has more natural potential for agriculture than china.

India's NSA is more than china. India's Gross sown area [GSA] is 199 million hectares. Irrigated land = 61 million hectares.

Cropping intensity = G.S.A / N.S.A = 140% target = 160%




Chapter 8: IMPORTANCE OF AGRICULTURE IN INDIA

Introduction

Agriculture + fisheries + livestock + forests contribute 13.9% to India's GDP. India's 51% population dependent on these activities.

Features of Indian agriculture:


Subsistence agriculture

Low productivity

Rain fed

Food crop dominant

Low agriculture investments.

Poor forward and backward linkages. Under developed food processing. Low agriculture mechanization.

Agriculture Performance Ratios:

Agriculture efficiency:- Agriculture output / Agriculture input

Agriculture productivity = weight / area

In Indian agriculture system, the high productivity areas are those where cheap labor, good rainfall and fertile land is available e.g. Lower Ganga plains, east coast.

High productivity areas are those where good investment in input, machinery and High yielding seeds are available like Punjab, Haryana, Kashmir.

Agriculture Productivity issues and solutions:  

To improve productivity:

Seeds

Nutrition

Judicious use of chemical fertilizers

Use of organic fertilizers

Irrigation

Finance

Water use efficiency

Rain water harvesting

Watershed management

Modernization

Modernization should be aimed at post harvest [storage, food processing] not at pre harvest [sowing, weeding] else would lead to job loss. 

Major crops of india: 


  

Kharif – monsoon season; all except rabi crops

Rabi – winter season; wheat, gram,linseed, gram, pea and mustard.

Zaid – dry summer; vegetables and fruits.

Rice:


Highest area under rice in the world. Water intensive and major staple food.

Wheat:


Productivity highest amongst crops in india. Not water intensive.


Pulses: 

Due to high MSP on rice and wheat the production of pulses declined. But due to high demand the imports dependence increased.

To encourage pulses cultivation the Rajiv krishi vikas yojana and national food security mission have included pulses.

Millets:


These crops need less rainfall but grown as fodder crops or subsistence farming.


Jawar:


It is a kharif and rabi crop. Suitable for dryland or rainfed areas. Third most important crop after rice and wheat.

Cotton:


Dry crop so not much water needed. Highly water retentive black cotton soil is most suitable for growth. Maharashtra, kaveri basin are famous cotton.

Textiles:

One of the most important industry which is self sufficient. Labor intensive with backward linkages with agriculture.

Maharashtra is known for cotton due to black cotton soil in Deccan plateau. Financial requirements are met from Parsis and Gujarathis.

Cheap labor from surrounding areas.

Mumbai was an agglomeration so inertia. Also ports for exports.

Sugarcane:

Tropical sugarcane areas are the northern plains. Sub tropical variety has low sugar content. Sugar factories shut in winter. From northern plains the factories shifted to Punjab, Haryana, South India and Western India.

Western India sugarcane is an important crop because:

Temperature is moderate due to sea which is favorable for sugarcane.

Skilled labor needed and western and South India have strong cooperative movement

Sugar from tropical varieties has high sugar content.

Oilseeds:

Demand is high but production has dropped due to farmers not preferring oilseeds over rice and wheat. Reasons are high gestation period, low R&D in this sector, low MSP than rice and wheat, preference of consumers to palm and soyabean oil as they are cheaper.

Government started Yellow Revolution to promote oilseeds cultivation.

Tea:

Tea needs high rainfall but cant tolerate water logging. It needs cool tempertature in morning. High labor requirements as mechanization isn't possible. Its Preferably grown in mountain slopes. Darjeeling is famous for tea due to cheap labor, proximity to ports, sloping land, heavy rainfall and cool temperature.

Jute:

Its grown in high rainfall and humid areas as its water intensive. Initially was the highest foreign exchange earner for india but demand declined abroad as synthetic variety was developed. However jute is more ecological and safe. Hence promotion of jute based products is needed.

Spices:

India has been famous for spices since ancient times. The hot ,humid climate is suitable. Spices also need heavy rainfall and laterite soil. This conditions are found in western ghats.

Government Program:

Seed Mission:
It was started by the 12th plan by the ministry of agriculture.
Objectives:

    1.    To enhance seed replacement rate.

    2.    Upgrade quality of farm seed saved .

    3.    Increase reserves of quality seeds at regional levels to meet requirements during calamities.

    4.    Upgrade PSU seed producing agencies.




Chapter 9: LAND ISSUES IN INDIA

Introduction

Net sown area is 141 million hectares. Per capita land holdings – 2 ha. World average – 2 ha.

British era land revenue system led to fragmented holdings, Zamindari systems, domination of moneylenders, large land holdings, landless laborers were exploited.

After independence land reforms focused on elimination of intermediaries, tenancy reforms, ceiling on holdings, cooperative farming, land to the tiller, prevent further fragmentation, consolidation of holdings.

 However only southern states and Punjab, Haryana, Maharashtra have been partially successful other state still facing problems of exploitation by intermediaries.

Agro climatic planning:

Farming based on suitability of climate of the place and physio-graphical situation of the place. Agro – climatic divisions of the country are based on climate, soil, water availability and terrain.

Objectives:

1.Maximizing productivity

Agro practices should be suitable

Technology should be used

2.Conservation of resources

Water use efficiency

Choice of crops

3.Economic benefits to farmers.

Diversification within agriculture

Non crop options.

Irrigation issues:

Types of irrigation:

Canal [30%] – oldest method of irrigation. But easy to construct in northern plains than peninsular plateau. But efficiency very low. Problems of canals are high seepage, evaporation losses and silting. Also not all farmers can afford field application channels from canal.
Tube wells [60%] – most popular technique as it can be used in any region. No additional infrastructure or evaporation losses. But can lead to overuse and deplete ground water resources.
Tank [4%] – artificial ponds of 3 – 4 ha and more are located in southern India and peninsular plateau. These too are susceptible to evaporation losses.

Command area development program: [Min of Water resources]

Development of on field infrastructure

Supply of improved seeds, fertilizers

Development of agro – credit infrastructure and services

Post harvest infrastructure development and forming Paani panchayats.

Schemes for irrigation:

Neeranchal – watershed development in the country [Min of rural development]

PM Krishi sinchayi yojana – expedite small and major irrigation projects [Min of agriculture]

Green revolution:

Launched in 1965-66 as high yielding variety program by Norman Borlaug. M. S. Swaminathan brought H.Y.V seeds to India.

Objectives:

Manage food crisis

Achieve self sufficiency in agriculture

Modernize agriculture

Develop Agro – industry interface

Phase 1: Modernize agriculture practices

        Use of H.Y.V seeds, chemical fertilizers, mechanization, pesticides, irrigation.

Phase 2: Crop specific and region specific

        Target wheat crop and region Punjab, Haryana and western UP.

Benefits of green revolution in India:

Not a single incidence of famine after green revolution

Productivity increased four times after 4 decades.

Tube well revolution, agro income increased.

Development of cold storage infrastructure, fertilizer industries, irrigated lands, markets.

Disadvantages of green revolution:

Crop specific and region specific. Increased disparity of non wheat crops.

Rich farmer became rich and green revolution didn't reach small, poor farmers outside the western zone like north east, east UP, Bengal.

Extensive use of fertilizers, over irrigation led to salinity, erosion.

Green revolution needs to spread to other areas. This would need modification of technologies and selection of crop. Need for creation of infrastructure, regulations, monitoring and awareness. Also focus on all crops and non agro activities too. Avoidance of input intensive agriculture practices.

Government Programs 

National food security mission:

Ministry of agriculture is handling it. It was started under the 12th 5 year plan in 2007. It has 5 components:

Rice – 10 million tons production targeted

Wheat– 8 million tons production targeted

Pulses– 4 million tons production targeted

Millets– 3 million tons production targeted

Commercial crops

Farm field schools to be setup for:

Farm mechanization

Resource conservation technique

Efficient water application tools

Cropping system based training

Agriculture extension:

Agriculture education and awareness

Farmer scientist linkage

Training and demonstartion

Veterinary education and research

Information dissemination

Training and capacity building

Agro education

Entrepreneurhip skill development

Arya – create opportunities for youth in agro.

Finance:

Kisan credit card scheme – gives crop loans, term loans and consumption loans. Can be used as an ATM card. Insurance against death and disability provided.

National crop insurance program: Available for all farmers and against all calamities and it will cover all crops. 10% subsidy for small and medium farmers. Subsumed schemes for individual crops.

NABARD's initiative:

Long term rural credit fund: refinance cooperative banks and Regional rural banks

Price stabilization fund – mitigate price volatility in agriculture markets.

Markets:

Amend APMC act to amend direct contract farming.

Kisan mandi to allow direct selling of agriculture products to consumers

FPO- direct marketing of produce. Cooperative marketing

Unified agriculture market – eliminate interstate barriers for selling.

Storage augmentation: Private entrepreneur guarantee scheme by FCI with guaranteed full capacity storage for 10 years to a godown constructed by an individual entrepreneur.

Finance: State warehouse corporation and central warehouse corporation registered warehouses can issue warehouse negotiable receipt to farmers who store produce in these godowns. These receipts can be used to obtain loans at commercial rates or to trade at commodity exchanges.

Forward market commission setup AGMARKNET, an online portal to give real time prices of agriculture commodities.




Chapter 10: LIVESTOCK AND FISHERIES

Introduction

     

India accounts for 17% of the World's Cattle population.. 64% of the buffalo population and 4% is rate of increase in milk. The per capita availability of milk is 281 gm/day. World average is 284 gm/day.

Rise of Amul 

Amul

 

It started as a cooperative due to effort of Sardar Patel in Kheda. Dr. Vergese kurien led the cooperative during the white revolution from 1950-1973. Amul became the first to make cheese and baby products from buffalo milk.

National dairy development board

 

It was founded in 1964 by Lal Bahadur Shastri with Vergese Kurien as its chairman and HQ at Anand. The NDDB launched Operation Flood to replicate Anand pattern in other parts of India. This made India the leading producer of milk in the world.

Operation Flood


Phase 1: Mother dairies in four metros where production, collection, marketing from rural areas to metros.

Phase 2: Thousands of sheds and outlets by milk cooperatives covered. Vaccination developed for animal health.

Phase 3: Increase infrastructure for procurement. R&D in animal health and nutrition. Feed, veterinary service, artificial insemination and dairy education for union members.

 

Outcomes:


Increased milk production and increased rural incomes of small and marginal farmers.

Women empowerment as NDDB with SEWA established 6000 dairy cooperatives run by women.

NDDB developed indigenous expertise in field of animal nutrition, health, dairy engineering, food technology, artificial insemination.

NATIONAL LIVESTOCK MISSION

To meet the needs of fodder and feed stock for animal nutrition. The ministry of agriculture launched this in 2014-15.

Feed security bill:

Milk pricing policy and milk credit cards at minimum interest rates.

Gobar bank

Marketing for cow products.

Collection center for cow urine to enhance farmer income.

      Veterinary issues:

Shortage of veterinary colleges and institutes.

Poor condition of semen banks

Need for universal vaccination for cattle.

Indigenous breeds are facing threat of extinction. Currently 83% of cow population in indigenous but this had declined by 8% since 2007. This is due to cross breeding, farm mechanization, cultivation of cash crops, decline of grazing areas.

The Indian breeds are better as they are suitable for arid conditions, drought related work, tolerant to diseases, can be fed agricultural wastes and though milk yield is less but nutrition quality is better.

Schemes for protecting indigenous breeds: Ministry of Agriculture


      

Rashtriya Kamdhenu Breeding Centers

Center for certified genetics and repository of germplasm.

One each in north and south India.

Rashtriya Gokul mission

Conserve Indian breeds in a scientific manner.

Enhancing productivity of Indians breeds and upgrading germplasm.

Indian Fishery:


Marine fishery of India is lagging as Indian ocean is least explored of all oceans for fishery. 75% of marine fishery comes from west coast. [Gujarat > Kerela > Maharashtra]

India's offshore fishery bad due to poverty among fishing community. Low use of technology and poor infrastructure for storage and packaging. In addition, monsoon and cyclones hinder fishing.

Inland fishery production is more than marine also growth rate is higher [WB > Gujarat > Kerela > Andhra > Maharashtra]. Reasons are large delta of Ganga and high demand, extensive lakes and lagoons or strong cooperative movement.

India is the second largest inland fish producer and seventh largest in terms of marine fish production. Overall India is the second largest fish producer.

Blue revolution in 5th FYP in 1970


The development of a fish breeding development agency for brackish water was created. The goal was to develop new techniques of fish breeding, cultivation, export and marketing.

This led to increase in shrimp production. Nellore, AP became shrimp capital of the world.


Potential:


Breeding of high value fin fish or shell fisheries

Ornamental fishery

Development of organic aqua culture, water recirculating units, technology for inland saline areas.

Modernization:

Mechanization

Finance

Information awareness

Trade

H.A.C.C.P and codex norms to be followed.

Packaging and cold storage infrastructure development

Quality control

Hygiene at ports.

Sustainable practices.

Ban on fishing during breeding seasons, not using fine size nets.




Chapter 11: INDIAN MINES AND MINERAL WEALTH

 

Introduction

  
 Indian metallic and non-metallic mineral wealth:

Iron

Manganese

Copper

Mica

Chromite

    Energy reserves:

Coal

Petroleum

Uranium

Thorium

Correlation between shield regions and metallic mineral regions:

Shield region: Aravalli, Singhbhum, Dharwad


Fig 1: Shield regions and Rift valleys of India

Metal mines: Chotanagpur and Dharwad plateau

Coal reserves are located around the rift valleys like Damodar, Mahanadi, and Godavari.


Fig 3: Coal reserves of India

Petroleum reserves are located along the Saurashtra shelf, KG basin, Bengal Bangladesh shelf, Brahmaputra shelf.

India has 22 refineries 17 are public sector, 3 are private and 2 are joint venture. India imports crude oil and exports petroleum products. India's refining capacity is more than the demand.

                                                                                                                     Fig 4: Petroleum reserves of India

Mineral regions:

Peninsula – bauxite

Himalayas – anthracite coals, limestone

Coastal areas – salt, thorium

The mineral rich belt in India has five locations:

Chotanagpur plateau

Kynite, iron, chromium, mica and coal.

Assam petroleum reserve.

Chattisgarh region

Iron, limestone and coal field in Godavari – Wardha belt

Southern belt – East Karnatak + AP

Iron – Bellary

Lignite – Neyveli

Mica, lignite, coal – Nellore

South west belt

Iron – Ratnagiri, Goa, Dharwad

North west belt

Petroleum – Rajasthan and Gujarat

Pyala lake – depression in desert filled with water. When water dries salt and minerals are left.

Types of Iron ore:    


          

Magnetite : electronic industries [70% – iron]

Hematite : iron and steel industries [2nd largest producer after Russia] [ 65% – iron]

Limonite : pigment for manufacture of paints [50% – iron]

Siderite : source of manganese and magnesium

Iron reserves located in:

Jharkhand – Hazaribag, Singhbhum

Odissa

Maharashtra – Ratnagiri

Goa

Karnatak- Bellary, Chitradurga

Chattisgarh – Bailadila

Manganese:

Jharkhand – all iron producing regions, Chaibasa – biggest

MP – Balaghat

Mica:

 Odissa – Kodarma [largest in the world]

Uranium:

NPCIL extracts uranium and processes it to get yellow cake which is magnesium diurnate. Yellow cake then processed to uranium dioxide in hyderabad [nuclear fuel complex]. NFC sends it to all reactors.

India's three step nuclear program:

Nuclear reactions:


Fission: U-235 is hit by neutron and it breaks into barium, krypton and energy also neutrons are released. This is the reaction for nuclear reactors, atom bombs.

Natural uranium is 99.3% fertile i.e. U-238 and 0.7% fissile i.e. U-235. The fissile element has the ability to fission in excited state. The fertile has to be converted to fissile by adding neutron i.e. Pl-239.

                                                       

                                                                  TABLE 1: INDIAN REACTORS

Heavy water reactor

Light water reactors

 

Natural uranium as fuel

Fissile uranium as a fuel

Coolant is deuterium oxide

[collides neutrons and hydrogen and slow them down, this induces future fission's]

Coolant is distilled water

[absorbs more neutrons than needed and so enrichment of uranium necessary frequently]

By product is plutonium, tritium

By product is plutonium, tritium

Frequent refueling, less heat generated

More energy/unit ; expensive enrichment

Criticality of Reactions:

If more than one neutron available for collision then reactor is super-critical; if only one is available then critical and less than one means sub critical. To reduce the rate of reaction a neutron absorbent like boron or cadmium is inserted.

Thorium is present in largest quantities in India. It is used in thorium based reactors to get energy.

India's three step nuclear program:

        Step 1: P.H.W.R use uranium + D2O to get plutonium + energy

        Step 2: Fast Breedor Reactors use plutonium + uranium oxide to get U-233 + energy

        Step 3: Thorium based reactors use Thorium+U-233 to get energy

BARC processes used fuel in P.H.W.R to get reactor grade plutonium for fast breedor reactors. FBR use liquid sodium as coolant and produce more fuel than they consume. FBR to be at kalpakkam.

Thorium based reactors can be constructed only after successful operation of  FBR for 30-40 years.

 

Nuclear liability law in India:


Required for US companies to get insurance in their countries.

Supplier of defective parts can be sued for damages by the operator [N.P.C.I.L]

The problem with the law is India is a signatory to international convention for supplementary compensation [I.C.S.C] that doesn't allow this. Private parties may not have the capacity to bear such damages. But this shall save tax payers money in case of nuclear calamities.

To counter this deadlock the nuclear insurance pool was created with Rs.1500 crore by government and state owned insurance. Now suppliers need to pay the premium. The pool will cater to operators and suppliers.

In case of damage, pool will be used to cater to victims, the government will bear additional liability of Rs.1100 crore and additional liability shall be borne by I.C.S.C.

Fusion:

Hydrogen atoms merge to form helium and enormous energy is released. This is the prinicple for hydrogen bomb and energy from sun.

Indian coal:

It is Gondwana formation. Not coking coal or metallurgical coal

It has high ash fusion temperature

It has low sulphur content and high ash content.

It has low calorific value.

Problems:

Low and good quality coal found together. this leads to selective mining which is wasteful

Not enough high grade coking coal and imports are needed

Washing, dressing, blending of coal is needed as by washing the ash content goes down and transportation is easier.

Open cast mining leads to pollution and smuggling

Deep mining techniques are primitive so high casualty

Coal field contain coal bed methane but no policy for allowing joint exploration of both. Hence methane allowed to escape this is wasteful.

Poor connectivity of coal to consumer locations. The productivity of mines is less as output per man shift is less than that of developed countries.

Coal Gasification:


It is a technique of extracting coal from deep, unrecoverable mines where manual mining is costly or impossible.

Two wells are dug:

Injection well: water + oxygen + gasification agent pumped from one well.

Production well: Synthetic gas comes out.

Advantages:

Synthetic gas is used for generating electricity, making fertilizers and hydrogen

Toxic wastes remain underground

Less water needed than conventional mining and hydraulic fracking.


Natural Gas

It is found in sedimentary rocks where other hydrocarbons are trapped. It is either found alongside other hydrocarbons like crude oil or alone.

Constituents:

1.      Methane – major constituent

2.      Propane

3.      Butane

4.      Ethane

5.      Hydrogen sulphide – waste

Propane and butane are used in LPG.

It needs airtight trucks for storage and leak proof pipes for transport. This increases capital cost. Natural gas occupies four times the space of a gasoline equivalent substance. In India natural gas exists alongside oil. No exclusive reserves are found and sometimes natural gas has to be re-injected in the field to get the oil to come to the surface.

 LNG terminals – NG is liquefied then transported to long distances. Liquefaction plant is at exporting country and re-gasification at importing countries.

Tight gas sands:


They are present in the deep sedimentary sands. The reservoirs have no natural fractures so hydraulic fracturing technique is used to extract gas. Initially drilling is done where a fluid is injected by which the gas comes to the wells.  Gas requires an expensive transport network in terms of pipes.

Cross border pipelines:

1. Turkmenistan – Afghanistan – Pakistan – India [TAPI] – the pipeline passes through hostile regions. International agency not willing to take responsibility to lay the pipeline. Since Turkmen law doesn't allow that agency to get a stake in the gas field that shall feed the pipeline.
 2. Iran Pakistan India [IPI] – Iran constructed pipeline on its part and gave loan to Pakistan for construction of pipeline. But due to US sanctions on Iran the loan was cancelled. This pipeline too passes through hostile region of Baluchistan and the supply of gas can be cutoff by Pakistan anytime.

3.A deep sea pipeline from India to Iran is also being discussed. Another gas pipeline via Russia and central Asia via TAPI line to India are in discussions.

                                                    

                                                                                                                  Fig 5: Proposed Pipelines of Natural Gas




Chapter 12: INDIAN INDUSTRIES

Iron Ore:

The iron ore is mined and then purified by smelting using limestone and coking coal. The pig iron obtained is then melted using oxygen furnace. Here oxygen blows through it to get melted iron. Then other metals are added to get various steels.

The location of steel industry depends on:

Source of raw material: the weight of finished steel is lower than the raw materials needed. Hence to lower cost of transportation the steel industries are located near iron ore mines.

Earlier technique of steel manufacturing was coking coal intensive. Hence steel plants were located near coal mines.  The new technique is iron ore intensive and coal requirements are less.


Port based steel plants are located near ports due to ease of exporting to foreign markets. It is also feasible to import raw materials usually coking coal from foreign countries for steel making.

Market based plants are located near consumers. These are mini steel plants and produce mild steel, alloy steel and stainless steel. The gestation period of these plants is less and energy requirements are also less. They account for 30% of steel production in the country.

India is the largest producer of sponge iron in the world. Per capita finished steel consumption is 39kg less than world average of 150 kg. China's annual steel production is 10x that of India.

Cement:    

One of the most advanced industries which is important for housing and infrastructure development.
India is 2nd largest producer of cement after china.

Fig 1: Cement demand in Indian Sectors

Raw materials for cement:

Limestone -65%, silica – 20%, alumina -5%

Slag from steel and fertilizer plants

Sea shells and gypsum, bauxite.

Cement is located based on the source of the raw material limestone. The limestone of weight 1.5 tons is needed for 1 ton of cement. Coal too is highly important as its mixed with limestone to get clinker.


                                                                                                                      Fig 2: Cement statistics of India